We are excited to announce that PlanIt has joined the NEOGOV family as a part of the Power Products for Public Safety.
Simplify Scheduling. Enhance Communication. PlanIt Police.
How Does PlanIt Handle Extra Duty and Special Events?
Moving a paper process online can be daunting. There are all different moving parts that you need to understand to make sure the solution will work for you. There is often confusion about how PlanIt Scheduling Software handles scheduling police officers for special events, extra duty, and open shifts. Throughout this article you will learn exactly how it works - and saves you a lot of time.
Police departments often handle overtime hours differently than other organizations. That is why we created a feature tailored to the specific functionality.
It streamlines the whole process and makes open shifts and overtime hours a lot easier to manage. It is really a straightforward process but we know there are many different terms for the same process - which can make it confusing.
So just to clarify a few things:
"Open shift" - is the term we use for a shift that needs filled. This can be any extra duty or special assignment that needs to be staffed/filled
"Overtime form" - is is the electronic form that officers will submit after working OT to get compensated for the hours
The two of the above features are what you need to complete the full workflow of an extra shift.
Let's check it out with a simple example of a basketball game on Friday requiring two officers to work.
Step 1: Administrator creates the opening
# of clicks to complete this step: 5
First, you will want to create 2 open shifts. They will show as red links on the internally public schedule.
If your department has a unit designated for special assignments, you can assign the shift to that unit.
That way, the officers who fill the shifts will not be counted in determining staffing requirements for your normal patrol staff.
Step 2: Officers request to work the open shift
# of clicks to complete this step: 2
Once the openings have been created, officers will be able to see them on the schedule and submit a request to pick them up.
The open shifts are links posted in red so that employees can easily see them and recognize that the shifts need to be filled.
They can click on the links and request the open shift right from the schedule.
Step 3: Administrator approves the officer(s) to work the shift
# of clicks to complete this step: 4
As officers begin to request the open shifts, they will be added to a queue.
You will receive notifications as the requests are submitted.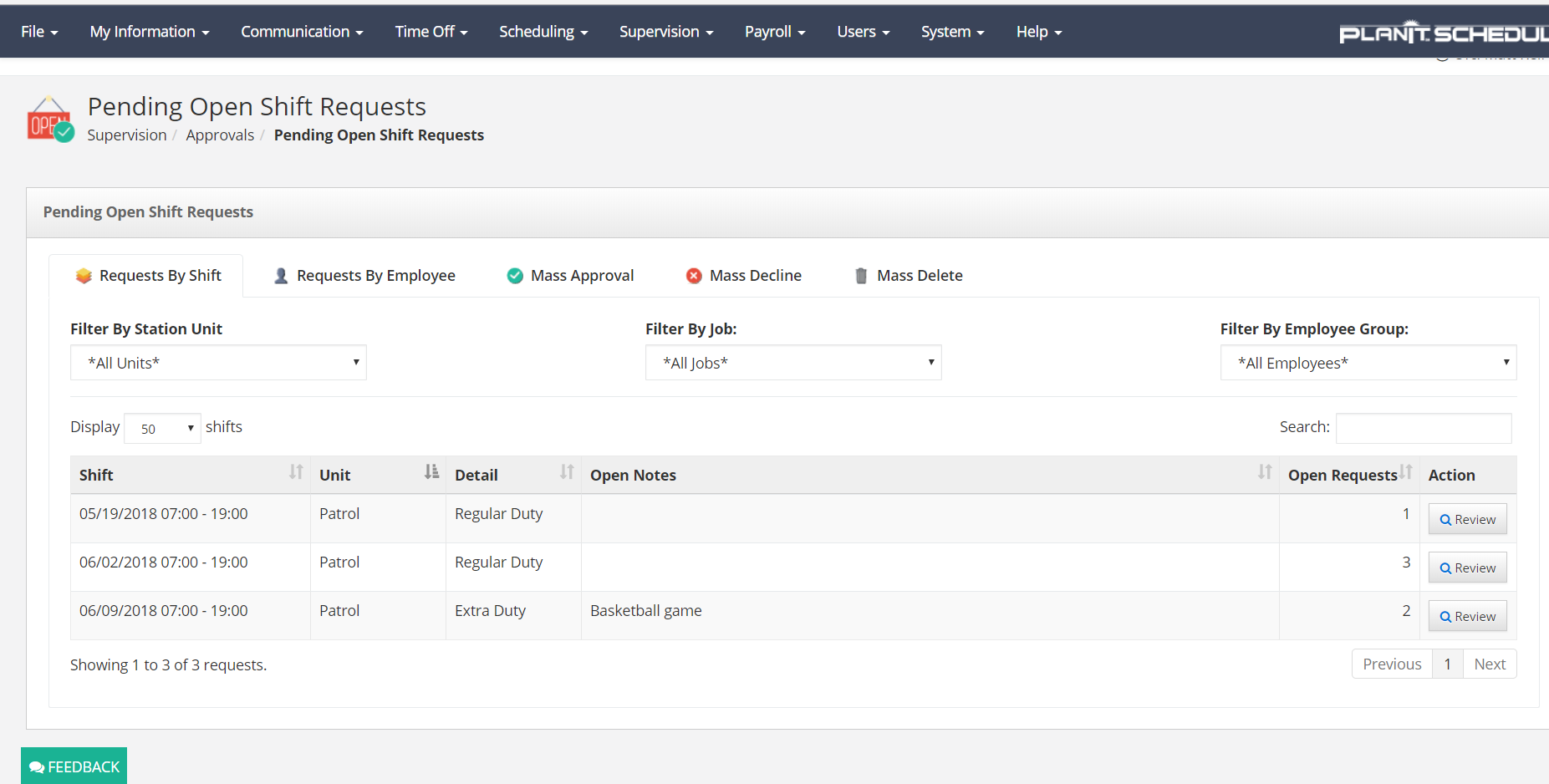 When you have made a decision as to who should fill the shifts, you can approve or decline the requests as you see fit.
Employees will be notified when an open shift request has been approved or declined.
Step 4: Officers submit OT hours
# of clicks to complete this step: 5
Once the officers have worked the shift, they can submit an overtime form for review to account for the hours.
Depending on how your department handles OT, you can give employees the option to have the hours paid or credited to comp time.
They will fill out information related to the shift they worked and submit it for review by an approver.
You can decide who the approvers in your system are.
Step 5: Administrator accepts OT hours
# of clicks to complete this step: 3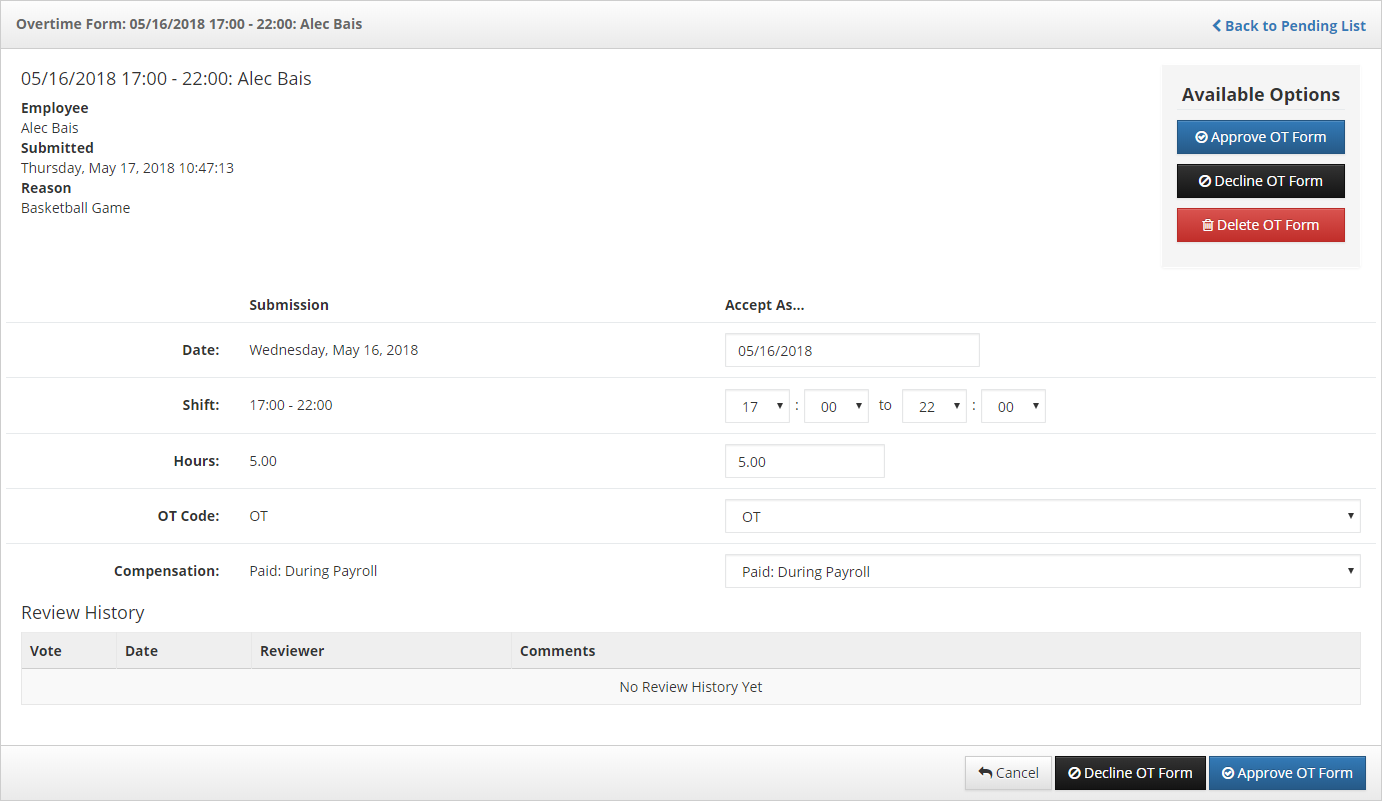 Now all that's left is to review and process the submitted OT hours.
Once officers submit an OT form, you will receive an alert letting you know that it's ready for review.
You can make any modifications to the form if necessary before approving, declining, or deleting the form.
You also have access to view the employee's time sheets, schedule, and prior OT forms.
Officers will be notified about the decision that was made.
When OT is approved, it will be reflected in payroll for your payroll department to process. Alternatively, if they chose to get comp time, those hours will automatically get multiplied by whatever multiplier you have set and put them into their comp bank for them to use later.
This is the process for handling Extra Duty assignments in a nutshell.
Throughout the process, employees are notified about what decisions are being made, so everyone is able to stay in the loop.
When you have extra duty assignments which require employees to fill out OT forms, you now have the tools to make it work seamlessly!
---
Evaluating scheduling software for your department?
Here's an easy way to organize your options - download our feature checklist below!
---
Read More:
PlanIt Police is an online scheduling system for police departments. PlanIt is developed by Ragnasoft, Inc which has specialized in public safety scheduling solutions for over 10 years.
Other Products

www.planitschedule.com/ems
---

www.planitschedule.com/fire
---

www.planitschedule.com/dispatch