We are excited to announce that PlanIt has joined the NEOGOV family as a part of the Power Products for Public Safety.
Simplify Scheduling. Enhance Communication. PlanIt Police.
5 Free Officer Scheduling Options for Your Department
As the saying goes, "no free lunch." Turns out, there are not many options when it comes to completely free law enforcement scheduling software.
Why? Police departments have unique needs that general consumers do not have to worry about...
An office manager is not concerned with minimum staffing violations.

The scheduler at a retail store is not dealing with losing staff daily due to court appearances.

The owner of your favorite pizza shop does not need the schedule covered 24 hours a day, 7 days a week.
24x7 operations in general have more complex schedules making it more difficult to manage compared to the average, for example, 9-5.
But then you add in the unique daily scheduling tasks law enforcement deal with... you can quickly understand what it is essential for law enforcement agencies to have the right tool for the job.
However, right now we are focusing on free options to manage personnel scheduling. So, I began researching online, thinking I would find dozens of options. I would go into each website listed on the Google results page and read through the information to find out what they were offering exactly that was free.
But as soon as I went through the first few websites, I realized what was going on. A lot of companies, and I mean a lot, will say:
"FREE!!!"
When you actually read the fine print you come to find it is only a 7, 30, 60-day trial that is free. I know I got frustrated trying to weed through the free trials and the actual free software. Whether you do not have the budget for the cost of a robust police scheduling system or just need a temporary solution, please see some options below.
5 Scheduling Solutions Include:
1. Pen & Paper
As old fashion as it may sound, it is a free option. If you're used to this method and only have a few officers that need to be scheduled, it can work! There are a couple challenges that come along with this option, like the increased risk of staffing errors, time consumption creating and distributing the schedule, updating each copy manually and notifying all officers, etc...
But if you have a method in place for things like submitting time off and overtime and just need the very basic schedule on paper, it might do the trick!
2. Excel
Excel allows you to create schedules, save, share, and print. It has limited visibility, but you can print and post the schedule for others to see. Or you can save and email it out. The only trick with that is if there are any updates to the schedule. Getting the communication out about changes to the schedule may be the biggest shortcoming of excel.
3. Web Based Generic Scheduling Software
Scheduling software that is used by retailers, restaurants, and other general businesses can be an option for your department. These are not systems built for police, but they are built for scheduling personnel. The will handle the basic scheduling functionality and allow for some form of visibility throughout the department. ShiftSchedules, Findmyshift and Homebase are three systems we found that offer a free version.
4. Open Source
Open source software is software where the source code is publicly available for you to use. One example of a scheduling solution is a project called Staffjoy. While the software itself is free, you'll need to provide your own servers to host the software. Open source solutions won't offer any technical support and will require technical skills or experience with computer programming to get up and running in most cases.
5. Grants
With the help of a grant, the system of your choice could be "free!" While it may be challenging to obtain a grant to cover the cost of scheduling software, it would be the best option on this list. Using scheduling software built for police that you are not essentially paying for is a HUGE money saver.
---
So, Why Pay for Officer Scheduling Software?
While the options above are "free," they will really end up costing you more over time than if you were to pay for a system to streamline these processes. Check out our ROI calculator here to see how much you can save! But it's important to understand what police scheduling software is and how it can reduce:
Labor hours
Unhappy employees
Staffing mistakes
Unfair overtime assignments
Miscommunication throughout
Click here to see a comparison of Excel vs. Generic Scheduling Software vs. Police Scheduling Software.
With a web-based police scheduling system, you will always have access to all the scheduling information at your fingertips.
The more tailored a system is to your everyday tasks, the more time it will save you. Some common features that are in law enforcement scheduling software, but not generic scheduling software include:
Court Appearances
Extra Duty/ Open Shifts
Overtime Forms
Minimum Staffing
24x7 Scheduling Capability
Certification Tracking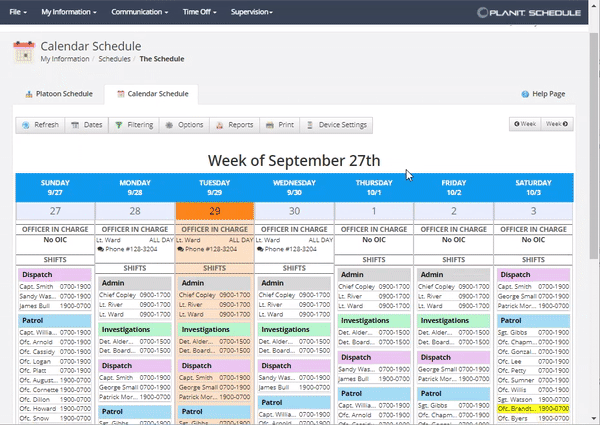 Want to make sure you're evaluating options effectively and choosing the best fit for your department? Download our free feature checklist so you can ensure you have the features you need in the software you're evaluating.
Or, schedule a FREE online demonstration of PlanIt Police scheduling software today! You'll get an overview of the major features and all your questions answered in just 35-45 minutes. Request a demo here: planitpolice.com/request-demo
Read More:
PlanIt Police is an online scheduling system for police departments. PlanIt is developed by Ragnasoft, Inc which has specialized in public safety scheduling solutions for over 10 years.
Other Products

www.planitschedule.com/ems
---

www.planitschedule.com/fire
---

www.planitschedule.com/dispatch