We are excited to announce that PlanIt has joined the NEOGOV family as a part of the Power Products for Public Safety.
Simplify Scheduling. Enhance Communication. PlanIt Police.
Veterans Day Interview: A Look Into the Life of a Former Marine
Veterans Day is a time to honor those who have served in the U.S. Armed Forces. As you know, our freedom does not come free. Hundreds of thousands of Americans sacrifice their lives so that we may be free. According to FiveThirtyEight, 7.3 percent of all living Americans have served in the military at some point in their lives.
We have the pleasure of working with a veteran right here in our office - Sara. She was open about her experience in the Marine Corps and willing to share with us.
---
But first, lets see where she is at today...
Sara is a training and support specialist at PlanIt Schedule. She is part of the setup and support team – a key component. She is intelligent. Hard working. And honest. Without her, questions would not get answered, problems would not get solved, and new installs would not get setup! Needless to say, PlanIt would not be successful without her and the support teams' expertise. So what about her experience in the U.S. Marine Corps?...
Interview Questions & Answers
1. Where are you from?
Seabrook, New Hampshire
2. Did you always want to be in the Military?
I originally wanted to be in Law Enforcement but my desire to travel led me to the military.
3. Did you know you wanted to go into the Marines or were there other branches you were interested in?
Honestly, I had no idea which branch I wanted to join and knew hardly anything about any of them. However, I went to an Army recruitment office to get information and they were out of the office. The Marine recruiter next door approached me and four hours later, I was calling my mom informing her of my decision to enlist in the Marine Corps.
4. What was the main reason you got involved in the Military?
College was expensive!
5. Where were you stationed?
I was stationed at Camp Pendleton in California.
6. How many times were you deployed? To where?
I deployed twice to Helmand Province, Afghanistan. My first deployment was in 2012 for eight months and the second was 2013-2014 for seven months.
7. How far in advance did you find out about deployment?
I knew about my first deployment for about a year and my second deployment I was recruited by my former Gunnery Sergeant and ended up volunteering for the detachment three months before we were leaving.
8. What did you do after the Marines? (school, work, etc.)
After the Marine Corps, I moved to Lancaster, PA to be with my husband and I attended Pennsylvania State University.
9. How did your experience in the Marines have an impact on what you chose to do after (career-wise)?
When I first got out, I still wanted to be in Law Enforcement. However, my deployments made me realize the importance of spending time with family. When I found a job opening with PlanIt, I loved the idea of being able to work similar hours to my husband while still working with law enforcement to make their lives easier! Win, Win.
10. How did it change you as a person?
My time in the Marine Corps definitely had a big impact on shaping me to be the person that I am today. Mostly, I have a deeper appreciation for the freedoms that we have here in America.
11. Are there any specific experiences you would like to share about while in the Marines?
My husband and I met when I was assigned to the same unit as him at Camp Pendleton. A year and a half later, we got married and we are celebrating our 5th anniversary on Friday!
12. What did you like most about being a Marine?
I liked the structure it provided and the everlasting friendships that I made. My closest friends will always be those that I served with.
13. What did you like least?
Spending so much time away from my husband. We spent two deployments and many field training exercises apart.
14. How has that experience helped you in your career today?
Being a Signals Intelligence Analyst provided me the technological exposure that has aided me in becoming a Training/Support Specialist for PlanIt. Being a Marine helped me learn how to work under stress and how to be a leader. Both of these traits help me provide support and training to our clients on a daily basis. I also understand and appreciate rank structures, which is beneficial when working primarily with law enforcement personnel. Oh, I know military time too!
---
Take some time this Veterans Day to reflect and show appreciation in your own way.
Today, some of our team members wore red, white, and blue to show support: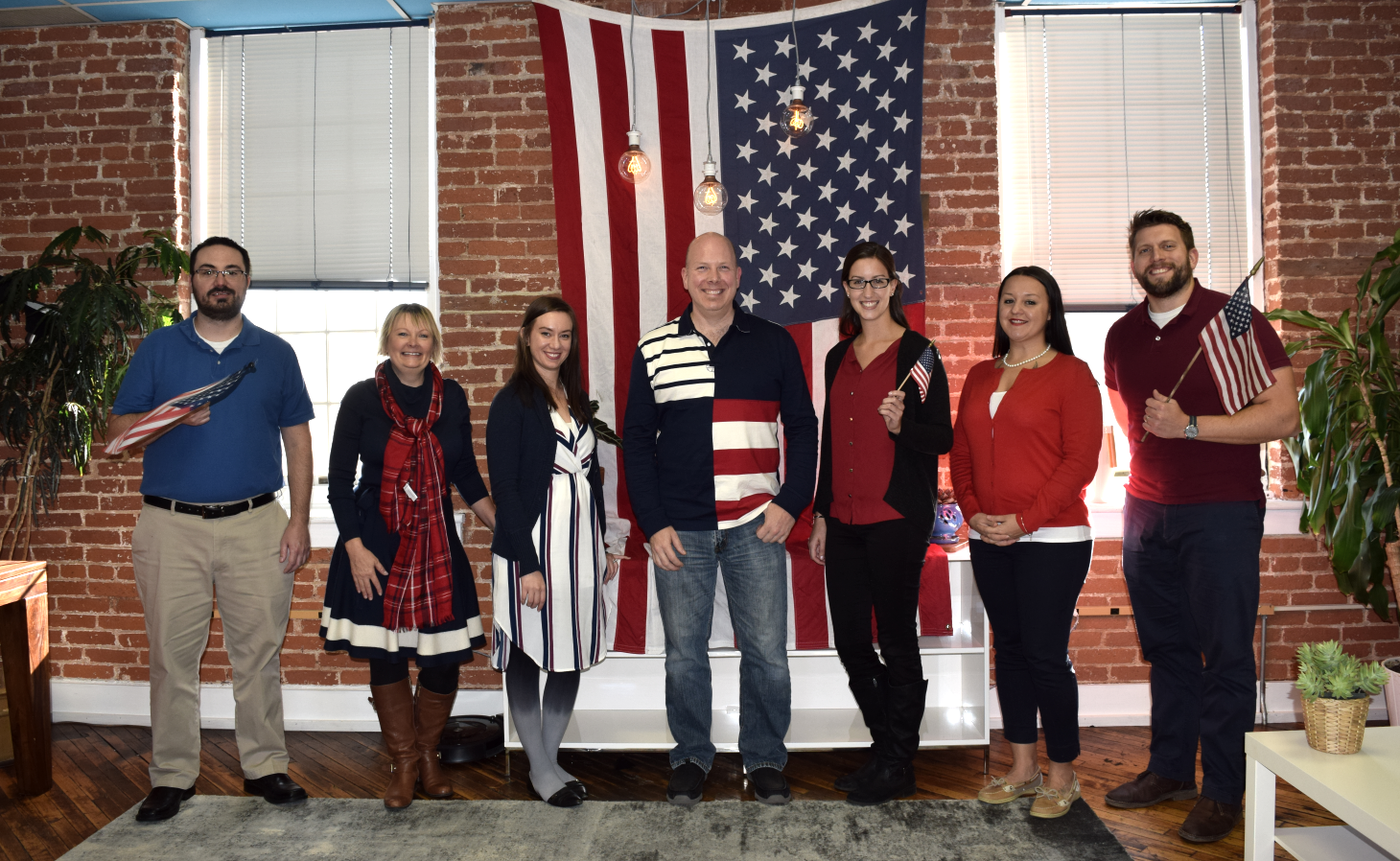 Thank you to all who have served in the United States Armed Forces.
---
About PlanIt Police Scheduling Software: We provide 24/7 scheduling solutions for law enforcement all over the country. It simplifies the task of creating and maintaining patrol schedules, overtime, time off, court appearances, and much more. Learn more at www.planitpolice.com
Read More:
PlanIt Police is an online scheduling system for police departments. PlanIt is developed by Ragnasoft, Inc which has specialized in public safety scheduling solutions for over 10 years.
Other Products

www.planitschedule.com/ems
---

www.planitschedule.com/fire
---

www.planitschedule.com/dispatch