We are excited to announce that PlanIt has joined the NEOGOV family as a part of the Power Products for Public Safety.
Simplify Scheduling. Enhance Communication. PlanIt Police.
What You Need to Know About The Pitman Schedule
24-hour agencies require strategic thinking when it comes to personnel scheduling. There is one rotating weekend schedule in public safety that has become extremely common. It is known as the Pitman Schedule (or the Pittman Schedule). But how does it work?

---
The Pitman Schedule provides 24-hour coverage by rotating 4 shifts and squads.
The biggest advantage is that each squad has every other weekend off. It's even common for departments to refer to the rotation as "Every Other Weekend Off."
Having every other weekend off makes it a favorable choice for both management and those working the rotation.
The rotation is commonly set up for employees to work two-on, two-off; three-on, two-off; two-on, three-off.
The most frequent configuration we have seen of the Pitman is 4 squads/crews, working 2-week templates of either day or night shifts to cover the clock.
Two of the crews will have night shifts while the other two have day shifts. All 12 hr shifts.
How much does a scheduling system cost that could handle a schedule like this? Find out here.
---
Below is an example of what the rotation would look like as templates:
---
As you can see from the example and the pictures, all hours round-the-clock are covered. Each employee will have worked 4 extra hours every 2 weeks that are usually counted/referred to as Kelly or Comp Time.
Download Printable Version of This Post HERE
There is also the option of having 4 squads with 4-week templates instead of 2. This way each squad will work both night and day shifts. See in the templates below:
---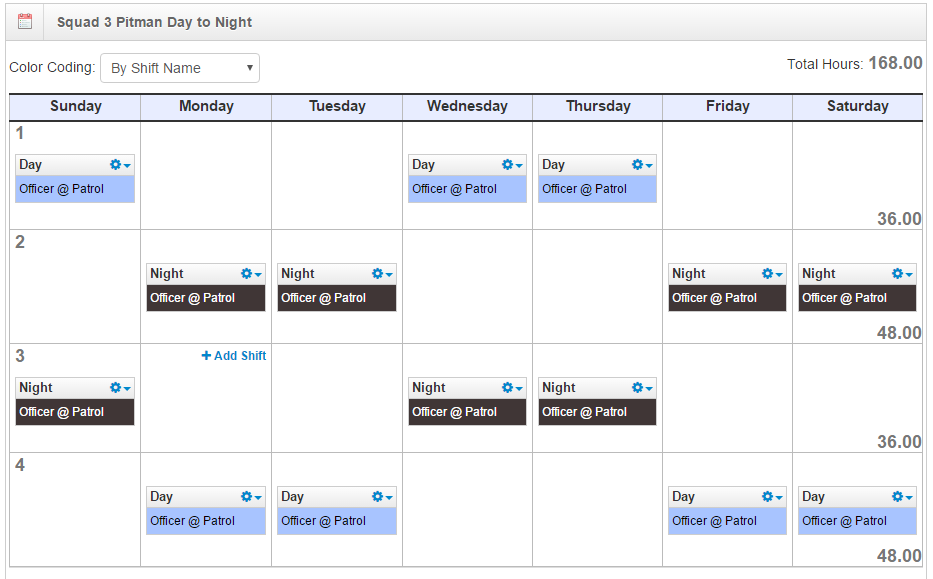 ---
Pros & Cons
While this is a common and efficient way to schedule, it is not a perfect solution. There are some problems. Evaluate the positive and negative aspects of this 12-hour shift schedule carefully before implementation.
Pros
No employee works more than 3 consecutive days
3-day weekends, every other week
If an employee takes 2 vacation days on one of the 2-day work weeks, they get 7 days' off
Work days = approx. 15 days a month, 182 days a year (not including time off, personal, etc.)
If switching between night and day shift on 4-week rotation, you have a 3-day break prior to the switch... more time off
Kelly time accumulation to use later - approx. 104 hours a year
Cons
Long 12-hour work days
If you are also rotating shifts instead of making shifts permanent, it can be tough for employees to adjust
Hard on employee's health
Depending on type of work that arises, may be exhausting some days more so than others
---
The Pitman Schedule is common in mid-large sized departments that need total coverage with limited staff.
Evaluate it for your department to see if it could be saving you time and money. Will your officers enjoy the long breaks? Or will they get discouraged with 12-hour days? For successful implementation of a new schedule, it is important to keep communication open.
---
Want to take this information with you?
Download the Pitman Schedule PDF that will cover everything in this blog post so you can share it with others in the department. Click the button below!
---
PlanIt Scheduling Software can handle 24x7 schedules, such as the Pitman, with ease. Call us today to get your questions answered and find out how much time scheduling software will be able to save your department (866-471-2001). See the system's features here.
More helpful articles can be visited below:
PlanIt Police is an online scheduling system for police departments. PlanIt is developed by Ragnasoft, Inc which has specialized in public safety scheduling solutions for over 10 years.
Other Products

www.planitschedule.com/ems
---

www.planitschedule.com/fire
---

www.planitschedule.com/dispatch