We are excited to announce that PlanIt has joined the NEOGOV family as a part of the Power Products for Public Safety.
Simplify Scheduling. Enhance Communication. PlanIt Police.
3 Popular Police Schedule Examples for Small Departments
Different sized departments require different scheduling rotations. If you have about 35-50 officers in your patrol division, and are struggling with schedules, these examples might be worth a try.
The Pitman schedule was used the most, by far, in departments of approx. 35 person departments. However, since we cover this schedule in detail in another post, we will not show it on here. To view an example of this rotation, please click here.
The next most popular police schedules for small departments were:
[4 on 3 off] [3 on 4 off] and [3 on 3 off] [4 on 4 off]

[4 on 3 off]

[4 on 2 off]
1. [4 on 3 off] [3 on 4 off] and [3 on 3 off] [4 on 4 off]
12-hour shifts, 2 weeks, 2 templates
This rotation is pretty straight forward.
If your department is willing to work 12-hour shifts, this is a pretty good option because of the amount of days off and every other weekend getting at least the Saturday off.
For 24x7 coverage you simply use the two day squad templates below and add 2 more of the same ones but on graveyard shift.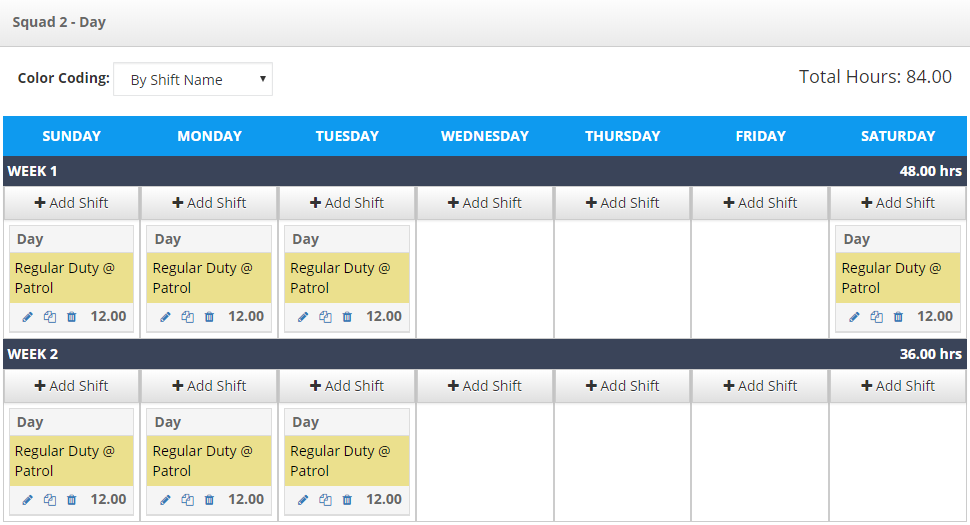 2. [4 on 3 off]
10-hour shifts, 1 week, 7 templates
Below you will see 7 templates. However, you do not need to use all 7.
The important thing is that you use enough of these to cover all days and copy the templates with a mid and night shift as well.
These use 10-hour shifts, therefore requiring a day, mid, and night shift.


3. [4 on 2 off]
8-hour shifts, 6 weeks, 3 templates
Some weeks the employee will only be scheduled 32 hours but averages 37 hours a week over the course of the 6 weeks.
To cover 24x7 you will need to create 6 more templates:
3 for mid shift
3 for night shift
While this rotation is longer, it is simple to follow with 4 days on and 2 days off.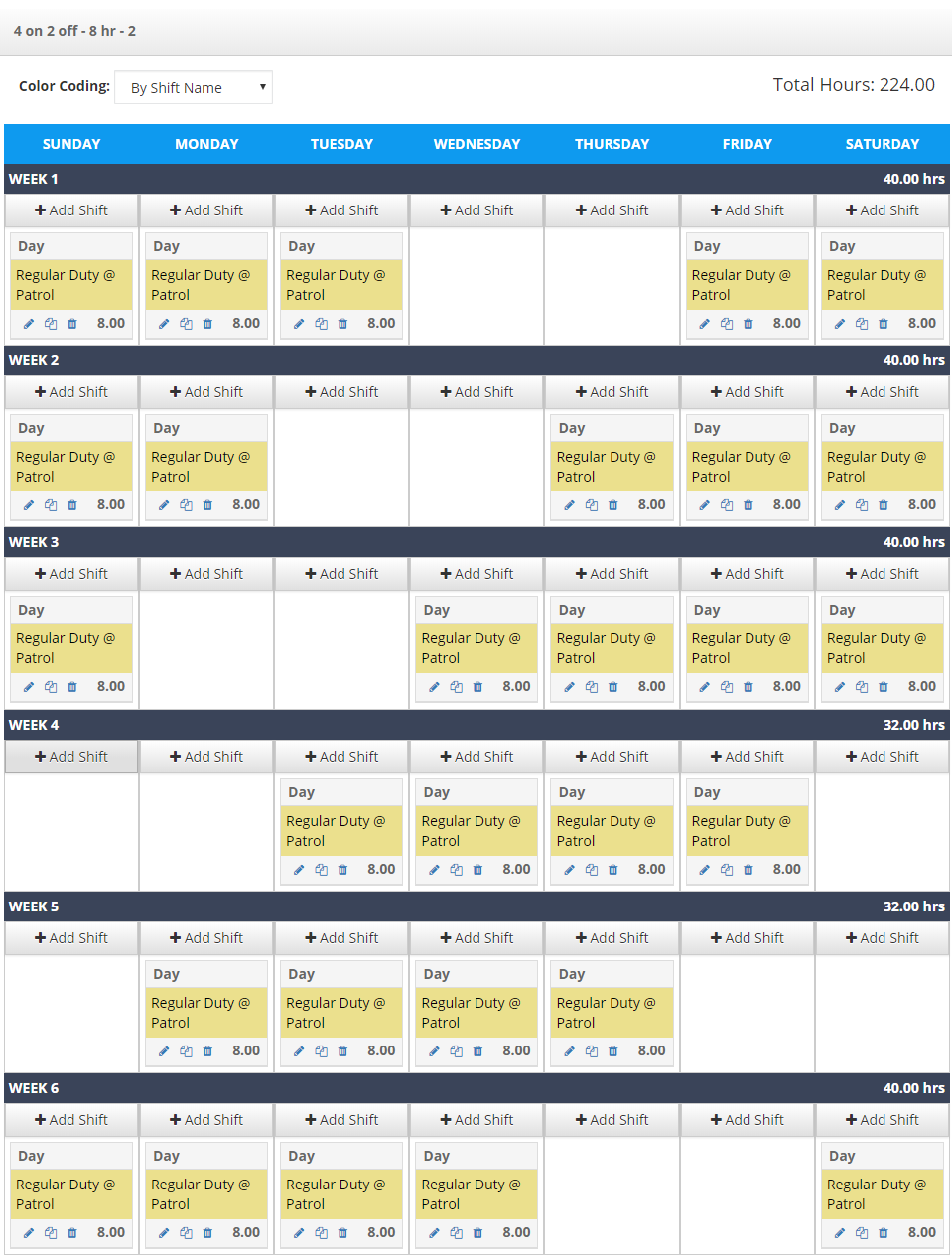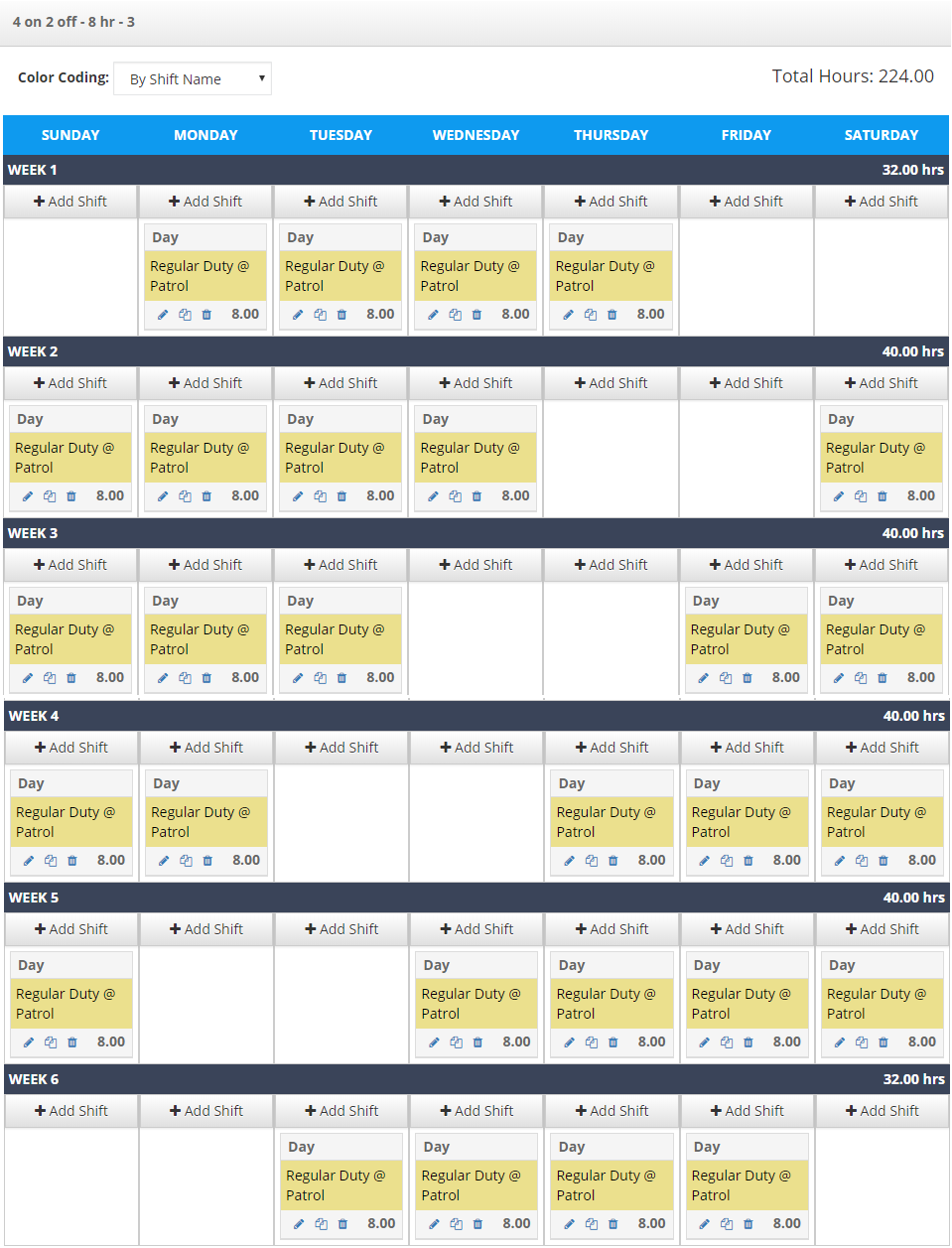 Want to take these police scheduling examples with you?
Creating a new schedule can be stressful.
Download all of these examples so you can view them in a PDF or print them out if you'd like.
We have complied 6 examples in the downloadable PDF:
Read More:
PlanIt Police is an online scheduling system for police departments. PlanIt is developed by Ragnasoft, Inc which has specialized in public safety scheduling solutions for over 10 years.
Other Products

www.planitschedule.com/ems
---

www.planitschedule.com/fire
---

www.planitschedule.com/dispatch