We are excited to announce that PlanIt has joined the NEOGOV family as a part of the Power Products for Public Safety.
Simplify Scheduling. Enhance Communication. PlanIt Police.
Patrol Schedule Example For a 50 Person Police Department: 4 on 4 off
Many times departments that staff around 50-75 people need different schedules than those staffing, say, 200-400 people.
Or different than those staffing 10-20 people.
So here we will discuss one: the [4 on 4 off] rotation that uses 12-hour shifts.
To see more examples for 50 person departments, download this PDF with 10 examples!
Check it out:
[4 on 4 off]
The [4 on 4 off] schedule discussed here uses 12-hour shifts. Therefore, you need 2 squads, one for day shift and one for the night shift.
The rotation in this police scheduling example will last 8 weeks and only require 2 templates(shown below).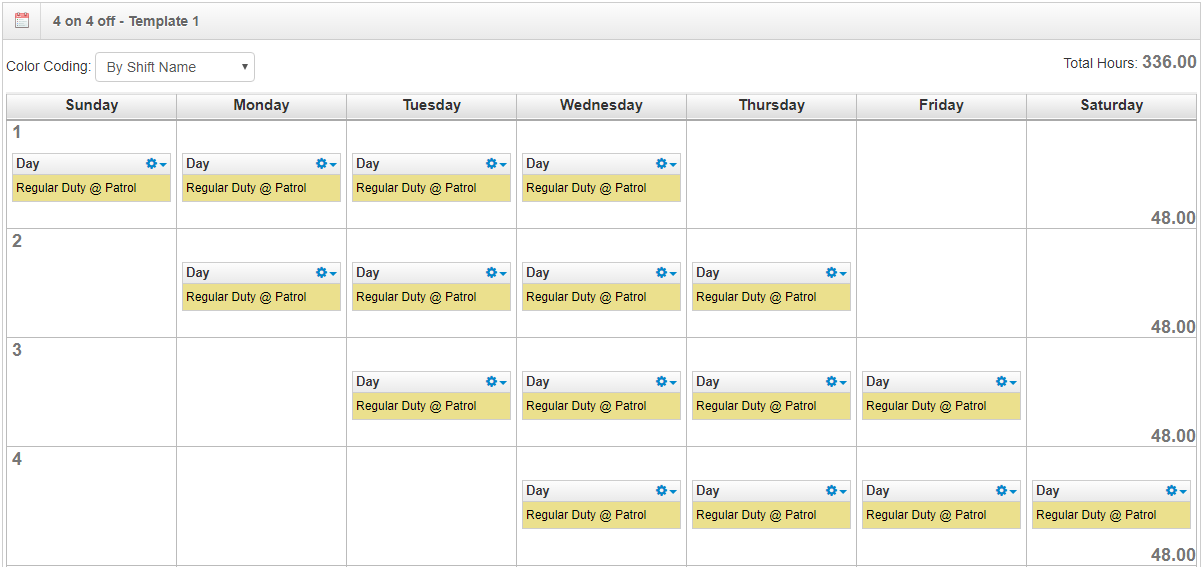 These templates show the first squad on day shift. So to complete the templates to cover round the clock, you will need the second squad with the same 2 templates but on the night shift.
This 12-hour shift 4 on 4 off schedule is favorable to some because of the 4 consecutive days off. However, one can be discouraged by the 4 consecutive days of 12-hour shifts as well. Evaluate the pros and cons to understand what will work best for your department:
Pros
4 consecutive days off
3 full weekends off
Straightforward rotation, easy to set up
Cons
4 days straight of 12-hour shifts
Adding in overtime can cause very long/tiring days
Working half of the weekends in the rotation
Can you think of more pros or cons? Comment below!
---
To view more schedule example templates for a 50 person department, please click the button below.
---
The pictures in this post are of templates created in scheduling software known as PlanIt Police.
This easy-to-use system will allow you to simplify your scheduling and enhance communication throughout your department.
When implementing PlanIt Police Scheduling Software, you will simply give the setup team your schedules for previous weeks/months and they will create all your templates out for you.
That way you will be able to see your fully configured system for the training and be able to jump in day 1.
To see what all is included with PlanIt Police free setup, click here
For more blog articles with police schedule examples, please go to https://www.planitpolice.com/blog
Read More:
PlanIt Police is an online scheduling system for police departments. PlanIt is developed by Ragnasoft, Inc which has specialized in public safety scheduling solutions for over 10 years.
Other Products

www.planitschedule.com/ems
---

www.planitschedule.com/fire
---

www.planitschedule.com/dispatch