We are excited to announce that PlanIt has joined the NEOGOV family as a part of the Power Products for Public Safety.
Simplify Scheduling. Enhance Communication. PlanIt Police.
How to Efficiently Manage Time Off Requests in Your Department
Tis the season. Summer is coming and dozens of your officers have already come to you with requests for time off. So how do you make sure you still have enough staff with all the requests?
---
Managing employee time off is definitely not a fun task any way you put it. BUT, there are some tools in scheduling software that may be able to make time off easier to manage.
Some features in police software that allow for easier time off management include:
Ability to request multiple days
Visibility of bank balances and history
Restrict days
Minimum staffing warnings
Automatic notifications
Visibility to department
Time off overview
In most police officer scheduling systems, you can manage time off requests.
Without using scheduling software before, it is difficult to understand what all a "time-off" feature really does.
So that is what this article will cover.
---
First things first.
When an officer is requesting off, they have visibility of:
Restricted dates - dates that they cannot request off
Their schedule
The history of previous requested time off
Their bank balances
---
On top of all that, these systems are web-based so they can request time off from anywhere with internet access - home, work, or on-the-go.
They will be able to view other officers time off on the internally public schedule: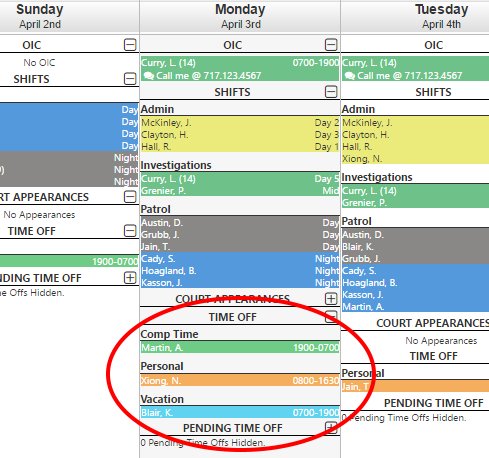 ---
Next.
As an administrator, you will automatically get notified when someone submits a time-off form.
It will go into the queue for approval and you can go in to evaluate it. The system will give you some warnings about staffing levels and bank balances.
That way, when you're dealing with a lot of time off requests, you don't have to worry about it creating issues - the system will let you know!
You'll be able to look at the schedule for any date, restricted dates, history of time-off, and bank balances.
Restricted dates are days that you set. So if you need everyone available for New Years or Halloween, you can restrict your officers from submitting time off for those days.
---
Finally.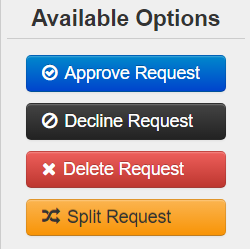 Once you accept or decline the request, it will automatically send out a text or email to that person to let them know what you decided.
It will automatically take them off the schedule if approved. If you fall under minimum staffing it will post and open shift on the internally public schedule.
The open shift will appear for all officers and allow them to click on it and offer to work it.
Now, all of these [specific] tools are available when using PlanIt Police scheduling software but other systems may act a little differently. Most provide similar tools to streamline the same processes.
When evaluating software for your scheduling and time off, make sure to understand the functionality it will provide.
---
If you would like to watch a video that demonstrates these tools, please click here. Want to learn about more processes that can be streamlined with scheduling software?
If you're interested in learning more about how scheduling software can help make your law enforcement agency more efficient read about more features today!
---
Read More:
PlanIt Police is an online scheduling system for police departments. PlanIt is developed by Ragnasoft, Inc which has specialized in public safety scheduling solutions for over 10 years.
Other Products

www.planitschedule.com/ems
---

www.planitschedule.com/fire
---

www.planitschedule.com/dispatch