We are excited to announce that PlanIt has joined the NEOGOV family as a part of the Power Products for Public Safety.
Simplify Scheduling. Enhance Communication. PlanIt Police.
How to Use Minimum Staffing in PlanIt Police Scheduling Software
---
Whether you need one officer on 24/7 or 5 officers on from 2000 to 0400 every Tuesday, PlanIt can handle that. We have a staffing requirement feature that was built specifically for minimum staffing. It allows you to easily drag and drop "jobs", such as patrol, into the time line to require a certain amount of personnel on.
Once these jobs and times are saved, the system will be able to warn you whenever you'll be understaffed. It also will automatically create an open shift if you go under the minimum staffing limit.
For example, say your minimum staffing for patrol officers is 6 on 24/7. One day you have an officer out on vacation and one out on training. When you move those people out to different assignments, a red link will show up under patrol on the schedule to signal that an open shift needs coverage. It will appear on the public schedule so that other officers can see it and click on it to offer to work the shift.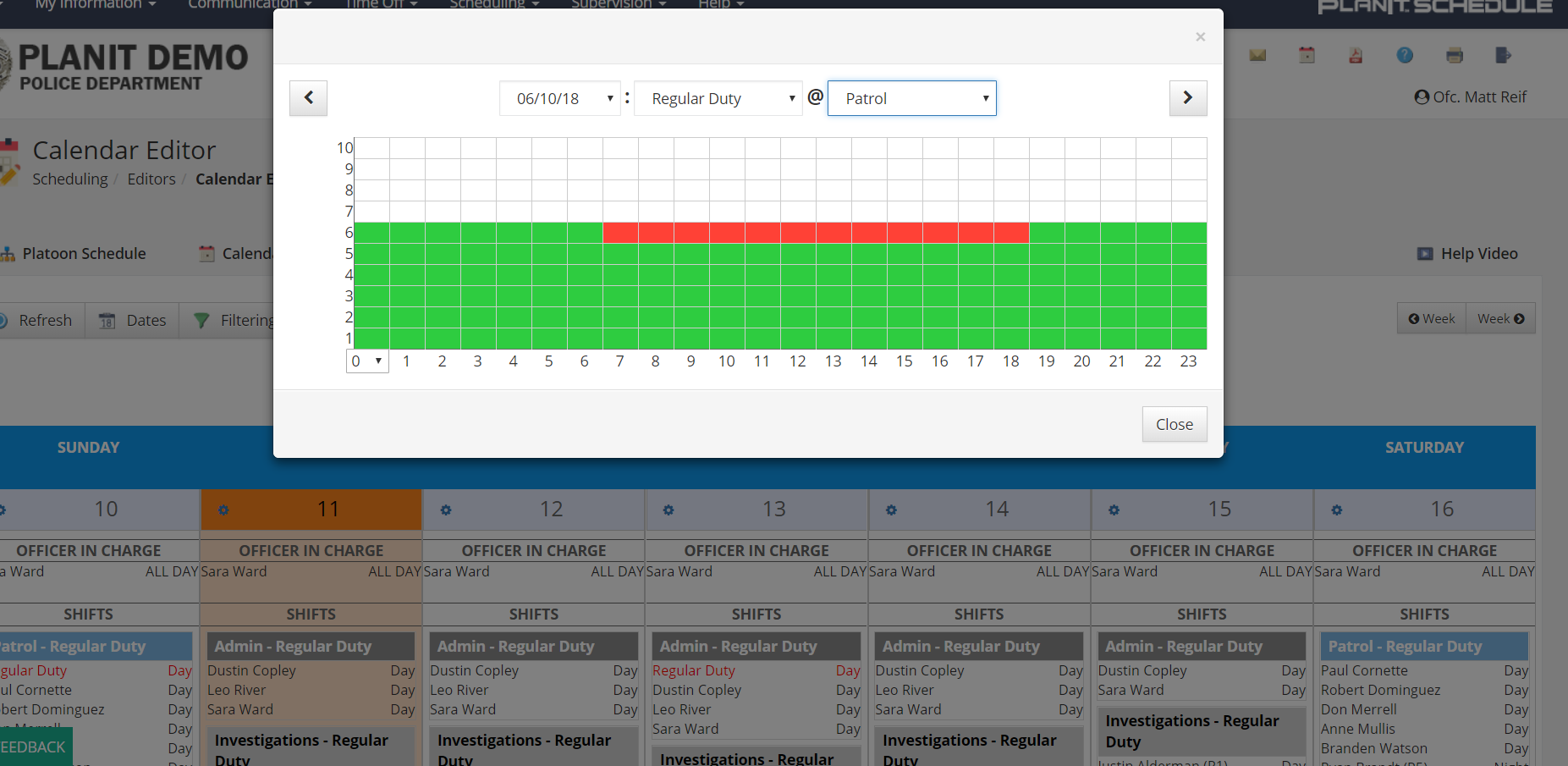 As you can see, on this example, we have minimum staffing set to 6 officers on patrol 24/7. 0700-1800 we only have 5 officers on the schedule so it turned red to let us know that we need another officer on. Yellow would show if we were overstaffed.
There are so many things to watch for while scheduling. Minimum staffing is just one of many alerts that PlanIt Police staffing software will pick up automatically. The system will enhance visibility on issues such as minimum staffing so that your department is always prepared.
---
If you have any other questions about alerts in the system or minimum staffing, please click the button below.
---
Read more:
PlanIt Police is an online scheduling system for police departments. PlanIt is developed by Ragnasoft, Inc which has specialized in public safety scheduling solutions for over 10 years.
Other Products

www.planitschedule.com/ems
---

www.planitschedule.com/fire
---

www.planitschedule.com/dispatch