We are excited to announce that PlanIt has joined the NEOGOV family as a part of the Power Products for Public Safety.
Simplify Scheduling. Enhance Communication. PlanIt Police.
Best Law Enforcement Scheduling Software Companies: 5 to Review
Hundreds of public safety departments contact us each year about scheduling software solutions (because that is what we specialize in). Talking to these professionals in the industry, we learn a lot about different contract rules, scheduling rotations, and scheduling processes. Our blog is filled with these resources but with that knowledge we have been able to build a system designed specifically with your needs front of mind.
Need some inspiration for new schedules? Click here to download a list of 8-hour shift schedule examples
Since PlanIt Schedule is used throughout the U.S., many times we have people asking us:
What other departments near us use your product?

Who are some of your competitors?
These are two great questions for a couple different reasons:
You're going to get honest feedback from people using the system on a daily bases - pros and cons.

If a company can't give you any referrals, there is probably a reason for that.

Finding out and researching competitors will allow you to see advantages/disadvantages of each.
Now we, of course, find PlanIt Police to be the best law enforcement scheduling software by providing the most features for the most affordable price. If you want to see PlanIt's features, costs, and testimonials please navigate to https://www.planitpolice.com/.
But we understand the importance of evaluating different options and comparing to find the one that is best fit for your specific needs. Therefore, we have listed below some companies who claim to provide law enforcement scheduling software.
---
5 Scheduling Software Companies Include:
Kronos - Telestaff

VCS - POSS

InTime

Aladtec

ScheduleAnywhere
A few reputable law enforcement sites that offer scheduling software company directories as well can be accessed here: PoliceOne scheduling software directory, Officer.com administrative software directory, and Police Magazine administration products & services.
---
So, there are some options to consider if you are comparing and collecting quotes for your new scheduling software. While they all are options who have worked with law enforcement, they are not fitting for every agency.
A lot of variables come into play that makes each one of these options better for some departments than others.
Read about some of the variables here.
How much does it cost?
A lot of companies require you to contact them for a quote and will not tell you pricing upfront. However, we are very transparent with our pricing so it can be viewed here. To give you an idea of what you're going to spend in general, check out this article:
How Much Does Police Scheduling Software Cost?
---
If you would like an easier way to sort out what your department needs are and what solution is best for you, download our comparison worksheet!
---
Want a FREE tour of PlanIt Scheduling Software?
A demonstration of the software will show you all the major functions of the system in just 35-45 minutes so that you can get a good feel for what it can do, in a short amount of time. We want to learn more about your organization and make sure you get all your questions answered. Click here to schedule a time to meet.
If you would like to know who uses PlanIt near you, please feel free to email or call us today - sales@planitschedule.com or 866-471-2001.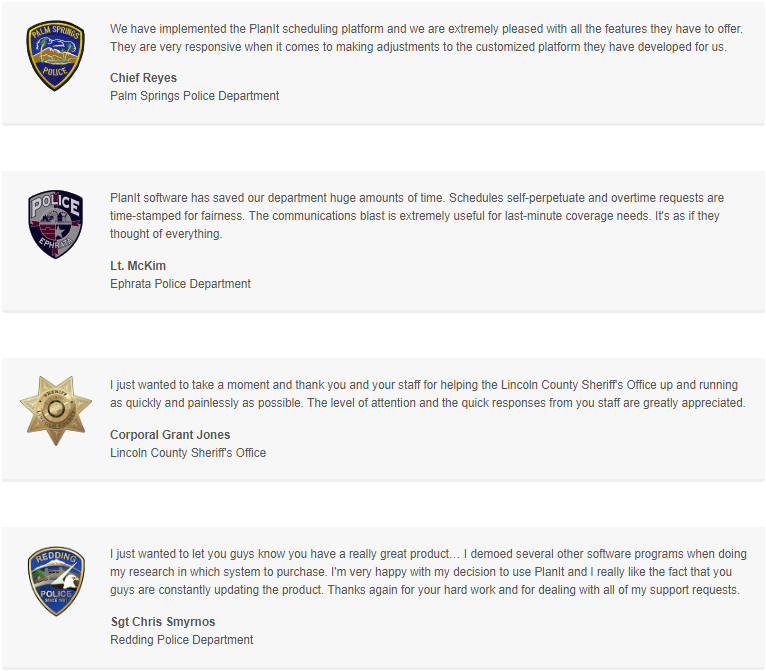 Read More:
PlanIt Police is an online scheduling system for police departments. PlanIt is developed by Ragnasoft, Inc which has specialized in public safety scheduling solutions for over 10 years.
Other Products

www.planitschedule.com/ems
---

www.planitschedule.com/fire
---

www.planitschedule.com/dispatch